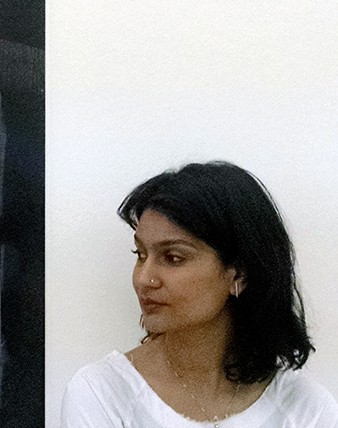 YAMINI NAYAR is an artist working between New York and Delhi. Her works intersect photography, sculpture and the language of architecture to present questions into the built environment, its social and psychological dimensions and the body. In her studio-based practice, photographs are documents made from mixed media assemblages and installations, in which the photograph is the only trace of an invested process of physical construction. Temporality, materiality, translation and performance are central to her work, as is the hand. Her projects have explored postcolonial narratives, memory, migration, informal architecture and dwellings, modernist architecture, and alternate & imagined modernities.


NEWS -
ARLES : LES RENCONTRES DE LA PHOTOGRAPHIE
with SERENDIPITY ARTS
IMAGINED DOCUMENTS curated by RAVI AGARWAL
https://www.rencontres-arles.com


THREE SPACES for TIME
Yamini Nayar, New Works
Thomas Erben Gallery, New York
Opens February 18!!! 6-8:30
through March 28, 2020




ALL THE MARVELOUS SURFACES
Decordova Sculpture Museum
Lincoln, MA
Opening October 10, 2019
INTIMATE DOCUMENTS
SERENDIPITY ART FOUNDATION
CURATED BY RAVI AGARWAL
GOA, INDIA
DECEMBER 15-22, 2019


IF STONE COULD GIVE
new works by Yamini Nayar
Gallery Wendi Norris
San Francisco, CA
opening February 21, 2019


LOKE Winter/Spring 2019
On Material
Yamini Nayar CONSTRUCTS


***NEW AQUISITION - ART INSTITUTE OF CHICAGO -
'Pursuit, 2011'***




** Artist Lecture ** to incoming students to SVA MFA Photography Department during Orientation week -
August 27, 2018



CUT BEND PULL THRUST: YAMINI NAYAR
curated by Iona Fergusson
Peckham 24 LONDON
Friday 18th - Sunday 20th May 2018
Peckham 24 is back for a third edition during Photo London Week, shining a spotlight on cutting-edge contemporary photography made by artists in London and internationally.
Campbell Addy - Rhiannon Adam - Samuel Barry - Jonny Briggs - Antony Cairns - Juno Calypso - Natasha Caruana - Zoe Croggon - Jo Dennis - Lalu Delbracio - Robin Haithcoat - Hannah Hughes - Taisuke Koyama - Anouk Kruithof - Chrystel Lebas - Tom Lovelace - Ben Mcdonnell - Yamini Nayar - Laura Pannack - Baud Postma - Hannah Starkey - Dafna Talmor
Penelope Umbrico - Ruth Van Beek - Lorenzo Vitturi - Alex F Webb


ASPIRATIONAL ARCHITECTURES
curated by Justine Ludwig
Fridman Gallery, New York
opening May 4, 2018
through June 8, 2018




MONOGRAPH - FALL/WINTER 2018-19
published in collaboration with Wendi Norris Gallery, Jhaveri Contemporary and Thomas Erben

CRASH, DIG, DWELL
Yamini Nayar & Asim Waqif
Jhaveri Contemporary, Mumbai
DEC 7, 2017 - JAN !3, 2018
Visiting Artist Lecture
Yale School of Art
Photography Department
April 25, 2018
LECTURE, New York University
Photography Department: Class of Lucas Blalock
April 4, 2018
Art Radar Journal on CRASH DIG DWELL, Asim Waqif and Yamini Nayar


Visiting Artist Lecture, Parsons, NY
invited by Rit Premnath
November 1, 2017
Frieze Art Fair, Randalls Island, NY
with Jhaveri Contemporary, Mumbai
May 2017